When a challenger like Amazon enters the arena and starts claiming territory across the spectrum of commerce, it's interesting to see how other stakeholders react.
What is Amazon doing that keeps executives up at night?
Amazon's mission is to be "Earth's most customer centric company; to build a place where people can come to find and discover anything they might want to buy online"
So, Amazon's mission is to take over the world of eCommerce.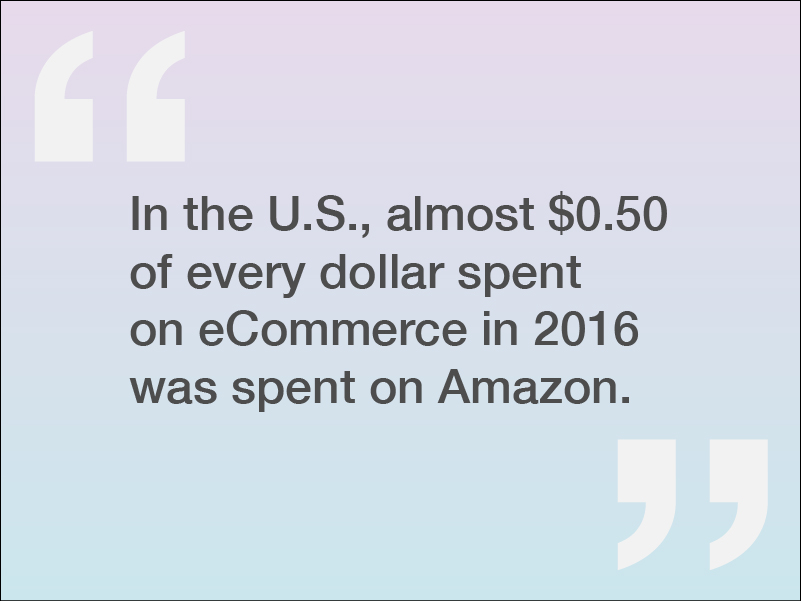 In 1994, "eCommerce" meant books for Amazon. Today, it can mean anything, and has grown to include streaming TV, grocery delivery, and last-minute halloween costumes. Last month, Reuters analyzed the conference call transcripts for 700 Q2 earnings reports from US companies, and 75 of those transcripts mentioned Amazon. It's safe to say that many corporate leaders feel threatened by Amazon's rapid expansion.
Two-day delivery is so 2015. Amazon continues to innovate across the board.
Amazon warehouses are sprouting up outside major urban centers, stocked according to the seasonal buying trends the retail giant observes within its own customer base. Combined with increasingly innovative logistical solutions (e.g. replacing workers with robots), this customer data fuels Amazon's two-HOUR delivery service, Prime Now. While competitors like Walmart are just now stepping up with their own two-day delivery promise, Amazon continues to innovate and invest with the customer in mind.
In the U.S., almost $0.50 of every dollar spent on eCommerce in 2016 was spent on Amazon.
Amazon is currently on a hiring spree for warehouse employees, expecting to add 100,000 full-time positions by the middle of 2018.
Amazon is expected to invest almost $5 billion on original video content for its Prime service this year.
This year, usage of voice-enabled speakers is expected rise 130% over last year, with Amazon controlling 70% of the market. I use Alexa daily. In addition to listening to everything I say when I'm home, she can turn on my TV, unlock my front door, adjust the thermostat, and order bananas or toilet paper from my local Amazon warehouse.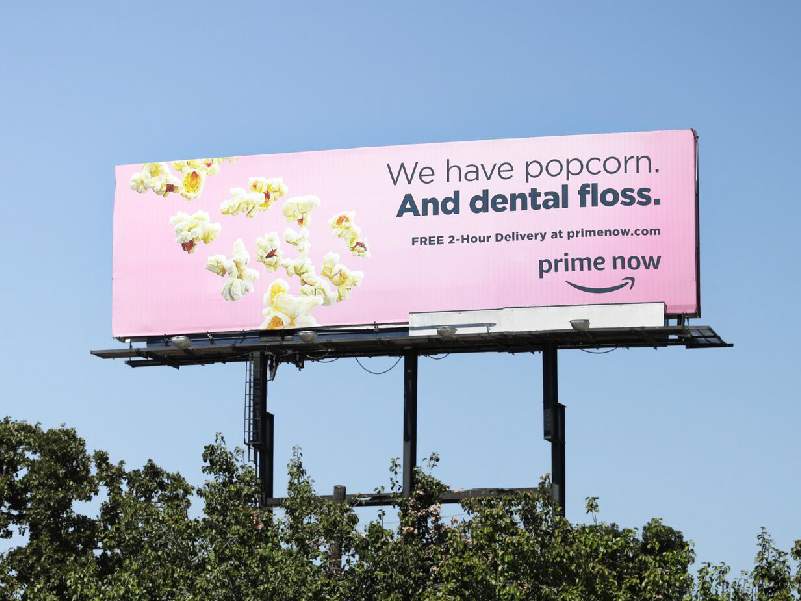 Stay tuned for the case study covering our September campaign raising awareness for Prime Now among Prime members in Austin.
"

As Amazon moves forward in their campaign to take over the world, stakeholders in threatened industries are stepping up to compete.

"

Retail: Google and Walmart are teaming up
Amazon threatens retail more than any other industry. This is why Google and Walmart are forming a new partnership focused on selling Walmart's products on Google Express, alongside hundreds of other retailers including Target and Bed, Bath, and Beyond. Google Express is Alphabet's answer to Amazon's eCommerce dominance, and it gives brick and mortar retailers, like Walmart, access to a smart and convenient commerce platform built on top of Google technology and user data. As brick and mortar sales continue to decline, investing in eCommerce will continue to become more important for major retailers. Walmart has recently launched a new video campaign highlighting two-day delivery, and while they don't currently offer grocery delivery, they do offer grocery pickup in select areas. Both initiatives are in response to Amazon's expansion within the retail industry.

Content: Hulu and Spotify are working together
Strictly in my own opinion, Amazon has been lagging behind in terms of encouraging adoption of it's content streaming services. Amazon is, however, putting their money where their mouth is. The name of the streaming game is original content. Interestingly enough, Amazon will invest almost as much in original content as Netflix this year, who is expected to spend upwards of $6 billion on new movies and shows. Smaller players in the content game are Spotify and Hulu, who are teaming up to build brand loyalty among student-aged millennials by offering a $5/mo combo deal which gives students access to both platforms. This price point will help Spotify and Hulu grow their base despite their competitor's increasing selection of exclusive, original content. More importantly, it should help grow the number of student-aged millennials using both Hulu and Spotify, which makes these platforms more attractive to advertisers (like me!).

Groceries: Costco leads the way
Major grocers are feeling the pressure to compete with Amazon's price, convenience, and selection business model that it will bring to the grocery industry with its recent acquisition of Whole Foods. For Amazon, buying Whole Foods was a short cut to taking over the grocery industry, but Costco has already been busy innovating in the space. Not only is Costco loaning money to organic produce farmers to keep up with demand, they're buying up and operating their own farms. In 2015, according to research by BMO Capital Markets, Costco sold more organic produce than Whole Foods for the first time. While vertical integration will help Costco compete with Amazon on price and selection, convenience will be fueled by grocery delivery. I wouldn't be surprised if Costco acquired a grocery delivery platform, like Instacart, or developed their own service to compete with Amazon/Whole Foods in the convenience arena.
Let's Talk!
In the end, Amazon's expansion is an excellent case study that illustrates how data and technology are changing the consumer landscape for the better. If you want to talk more about the data I cited in this blog, how Amazon affects your business, or how Tilted Chair can help you reach your customer in a digital world, reach out to me at jake@cool-saha.132-148-76-62.plesk.page.