As an advertising agency, we wanted to send a holiday card to thank everyone for a great year and to let them know we're looking forward to killing it again in 2016. Being the creative people that we are, we knew we didn't want to just sign and seal a few generic greeting cards, so I was charged with the challenging task of planning a kick-ass Christmas card. My objective was to find a unique way to show not only how much fun we had working with our clients this year, but also how much fun we've had working with each other along the way.
The custom of sending Christmas cards started way back in 1843 with Sir Henry Cole's attempt to make the Public Records Office (now the Post Office) a more approachable service for public use. Today, the tradition has continued as a way of showing other people how your kid has transitioned from a gangly, pimple-faced adolescent to an okay-looking teenager. In the advertising world, sending a holiday card is a nice way of telling clients and friends, "we may be nerds, but we're really really ridiculously good-looking." Just kidding…kind of.
In my fourth month as Production Intern and after having been welcomed with open arms to such a collaborative work environment, it was important to me that everyone be featured on the card, including all the dogs that make coming to work everyday so fun. Two equally important goals were to make the card entertaining enough that people didn't toss it in the recycling bin once opened, and to illustrate the camaraderie of Tilted Chair. The final product? A Brady Bunch-esque holiday card.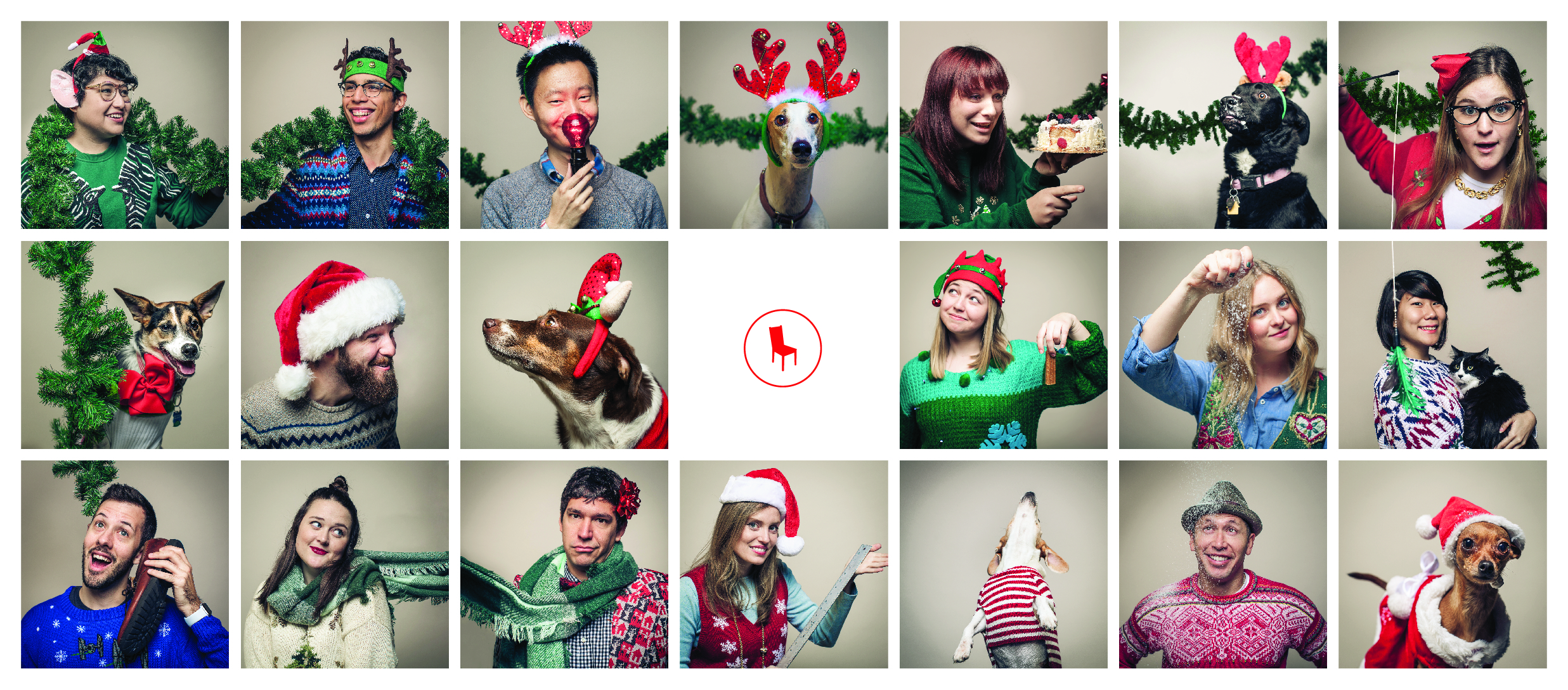 I wanted each frame of the card to interact, so planning the shoot was essential. Especially since we we had six dogs, a cat, and 14 humans to shoot. After mapping out all the interactions, making sure everyone would be dressed appropriately (and by appropriately I mean in ugly sweaters and, in one case, an epic sports coat), and setting up the lighting and background for the shoot, the fun began. Throughout the day, groups of two and three Chair-ians, sometimes accompanied by a canine in a sweater vest, came down to the shop to take their photos. Shoots for clients are both fun and rewarding, but Hua and I really enjoyed this particular shoot because capturing someone's personality in a photo is so much easier when they're your friend. That being said, the photos came out so much better than I had expected.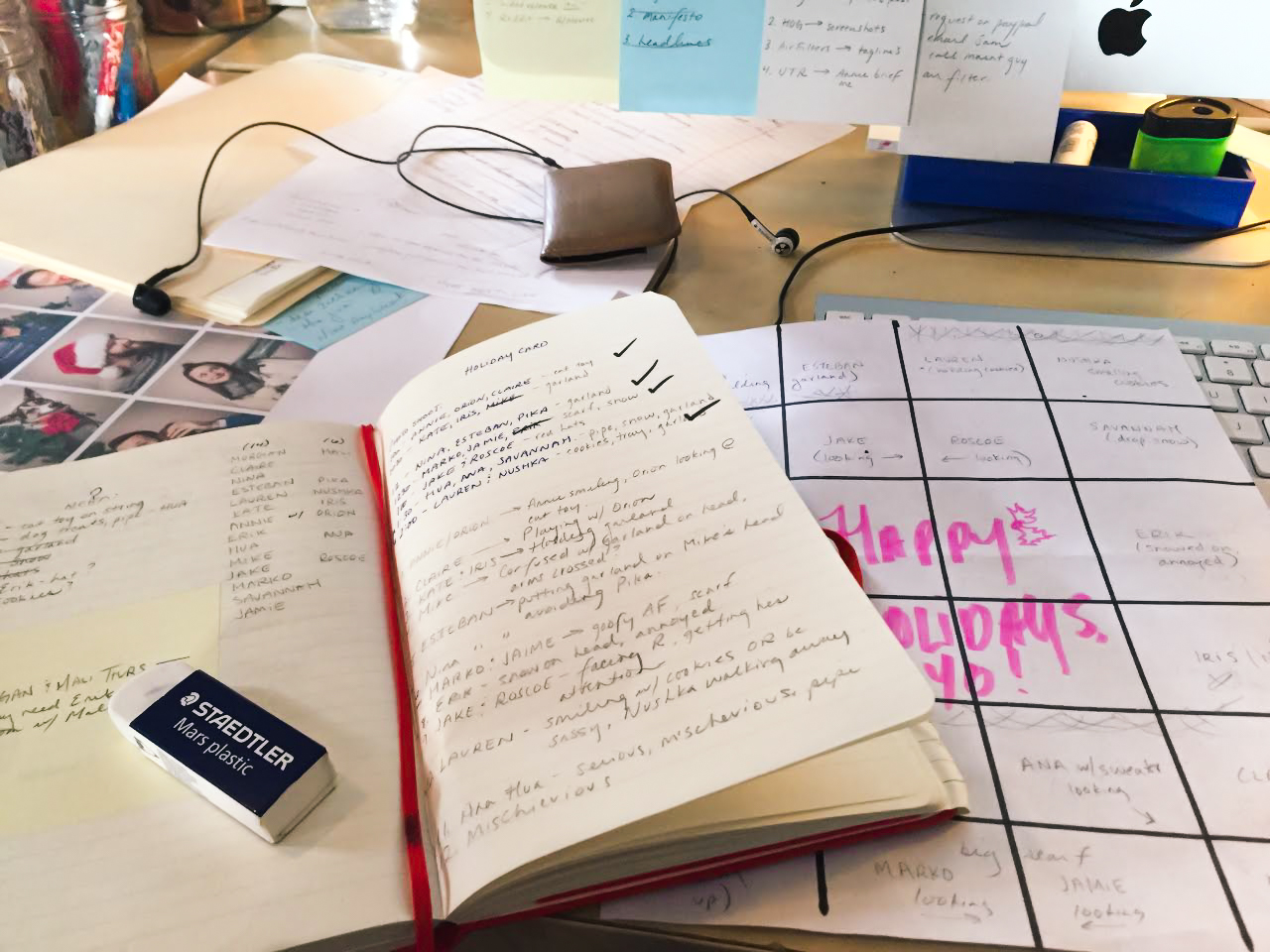 After choosing the best photo of everyone and laughing hysterically at all of the photos of our furry friends, I did some basic editing (not much is needed when Hua is behind the lens) and arranged the photos that would eventually be printed on cardstock and mugs for our clients. Arranging the photos ended up being a brain teaser, like one of those sliding puzzle games with one blank space, our logo serving as that space. With the help of a few brilliant minds, we successfully arranged the photos into the grid we wanted.
Once the photos were successfully laid out on the artboard, it all started coming together. It was looking great, but had a few minor problems: the scarf between Jamie and Marko was a little off, Mali (our beloved and sometimes exasperated beagle) was facing the wrong way, the wand and string attached to Claire's cat toy was hanging about an inch to the left of the actual toy in Annie's frame, and Nushka's  garland wasn't matching the garland in Claire's frame. Okay, that sounds like a lot of problems. I swear I planned!
All thanks to our amazing art directors and the all-mighty Photoshop, my problems were solved — and I bet you weren't even able to notice the edits! The card ended up being a huge success and taught me that no matter how much you plan, something will always go wrong and you just have to roll with the punches. I also learned that  there's no shame in asking for help, especially when everyone around you is eager to see you succeed. Here's to 2016, y'all!