"Red Bull & Adderall"
That was the brief handed down to us by the legendary hospitality group Carmack Concepts for their newest Houston-based watering hole, Electric Feelgood. "We have a name," they told us, "and that's about it." A clean slate, just how we liked it.
Party in the Back
Carmack was the group behind iconic Austin hospitality hotspots like The Dogwood, Dizzy Rooster, and Chuggin' Monkey. For those of us who grew up ripping shots on Dirty Sixth Street—and who have totally grown out of such adolescent behavior since—Electric Feelgood represented an opportunity to really put our stamp on something culturally relevant and special. Instead of embarking on our usual archetyping process, we did the opposite, channeling our subconscious rather than rational selves. We developed polar-opposite adjective spectrums and worked with the client to understand where the concept should live along each one.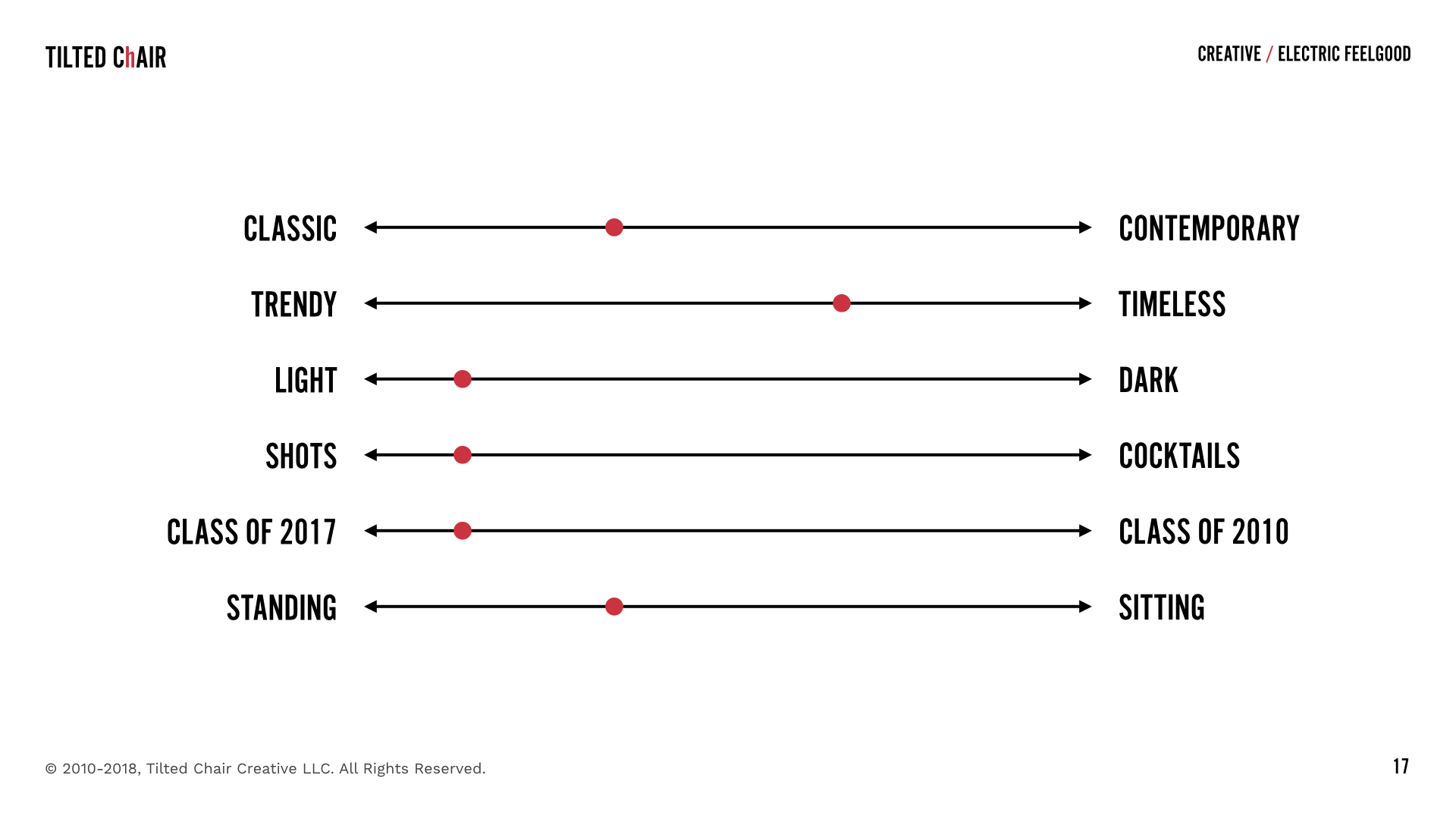 Getting Going
There were really no two ways about it: a night (or day) at EFG was going to be a rager. So, we started sketching accordingly. Some of our ideas tried to playfully integrate Houston's NASA history with space-themed elements. Others tried to evoke images of a groovier and hipper time. Some did both. Through close collaboration with the client—and during the all-important tissue session—the client steered us toward some solutions and away from others. The spirit of EFG was really starting to take shape.
Nailing It
Somewhere in the fog of collaboration and on-premise research, we landed on something special. We paired a guitar solo script worthy of a 1960s amp with cotton candy colors for a classic yet modern brand direction. We also took advantage of the unique opportunity to turn the consecutive "O" letters in the word "GOOD" into a smiley face. This logo had it all. EFG was ready to ride the lightning!
Feelin' F$@%n' Good
We always have fun when we're developing brands. But the nature of this one meant that fun got turned up to 11. We built out custom typographic lockups and illustrations to complement our striking logo.
Going Live
It's one thing to build a brand in pixels. It's something entirely different to watch it blossom before your very eyes. The lights, the patterns, the signs, the smells: in Fall 2019, EFG launched to a raucous reception.
A Happy Place
Without realizing the scope of the idea, we—along with the client—had created something amazing. We'd created downtown Houston's happy place, a third space where people could gather around the pure joy of socializing and feeling good.
This will be the busiest bar in Houston for some time.
"
Let's connect!
Ready to start a super cool project together? Cool, so are we.