Pete by the Numbers
$1M
Raised in the first four hours after campaign launch, largely through the website
$24.8 M
Raised in Q2 of 2019, leading all candidates, Republican and Democrat
9.5/10
Average relevancy score of our Facebook promotions
20%
Pete's support in Iowa as of early November 2019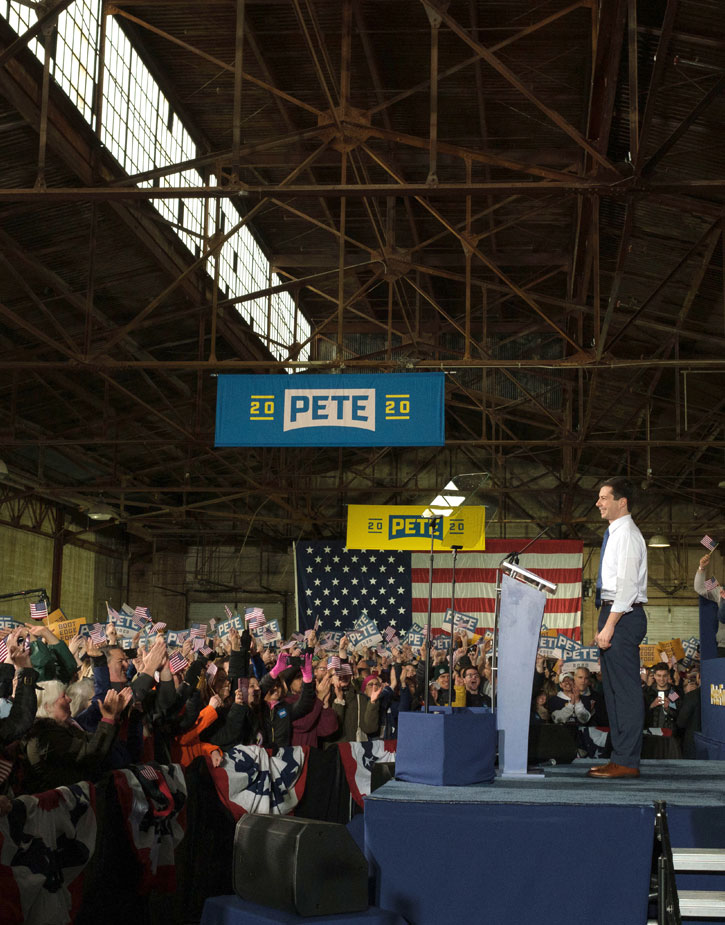 America: Meet Pete
This was our aim in Spring 2019 when Pete Buttigieg and his presidential exploratory committee engaged Tilted Chair for a number of creative services. But who was he? And could a candidate this young make a legitimate run at the presidency? As it turned out, Pete proved a dynamic candidate who boasted a résumé that would have been impressive for someone twice his age: veteran, Rhodes Scholar, Harvard Graduate, fluency in seven languages, the youngest mayor of a major city in US history, and the country's first major-party millenial presidential candidate. Pete had our attention. Next up: America.
The Ask
Work with the brilliant branderos over at Hyperakt to bring what we felt was the field's finest brand to life in the form of a new website. Additionally, we were asked to plan, develop, deploy, and manage a digital marketing campaign to start bringing in fundraising dollars. The deadline: April 14th and Pete's much-anticipated official announcement of his bid to become the 46th president of the United States. The stakes really don't get much higher than this.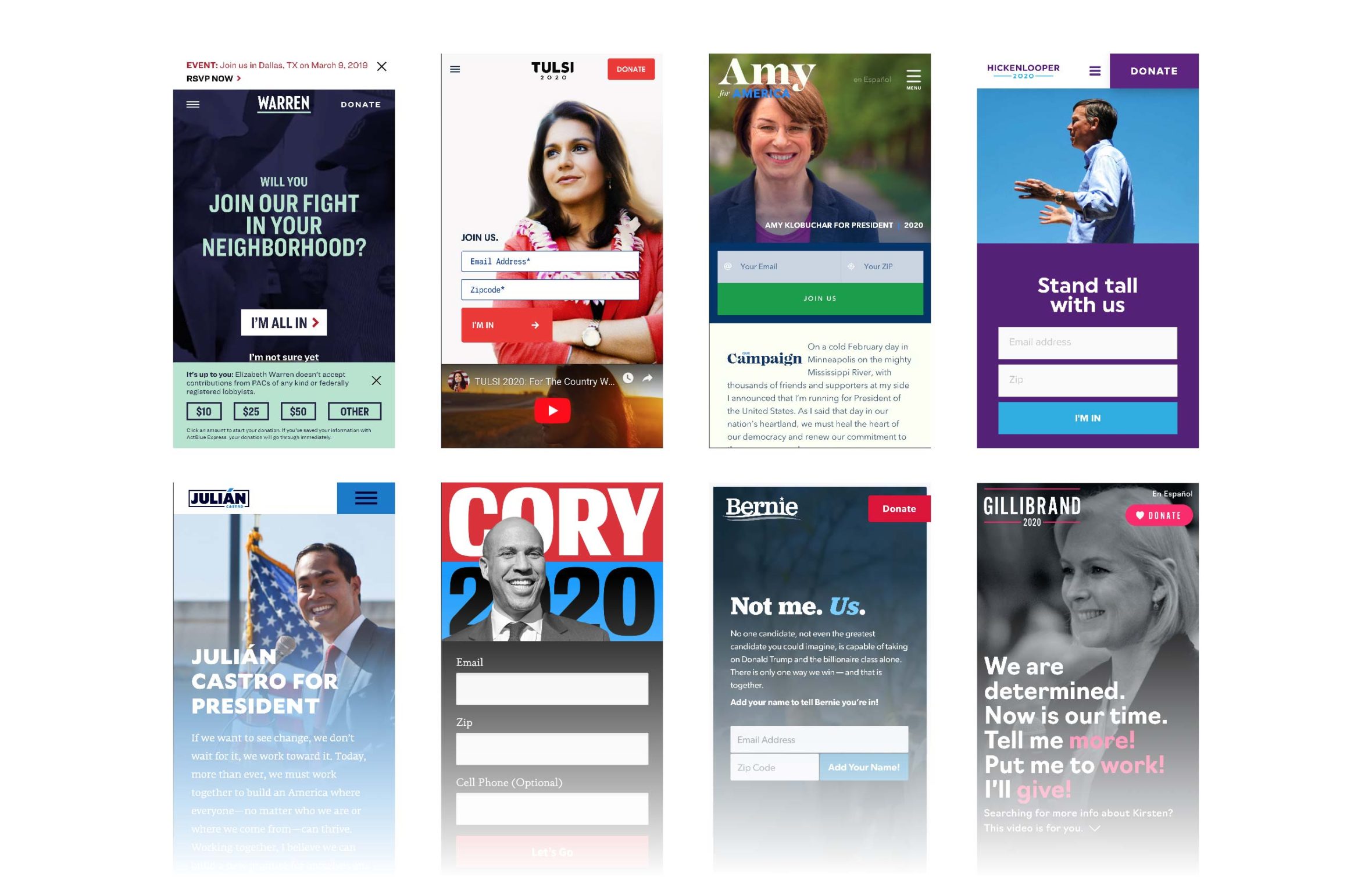 The Competition
Our first order of business was to take an appraisal of the competitive landscape. With an already crowded field of candidates, it was important to observe what others were doing well, and what they weren't doing so well. The takeaway? Lots of red, white, and blue. Lots of generic sameness, which obviously wouldn't do for a candidate as dimensional as Pete. In developing our web design strategy, we sought to create THE iconic impression of the 2020 campaign with a striking above-the-fold introduction to the man and his vision.
Design
We applied Pete's brand in an authentic and unforgettable way. The design was intentionally kept simple: a third of the above-the-fold splash was dedicated to Pete's confident portrait, and two-thirds were dedicated to his message and an option to join the campaign. We incorporated elements that were an homage to our candidate's story and built out a fully responsive website that was class-leading.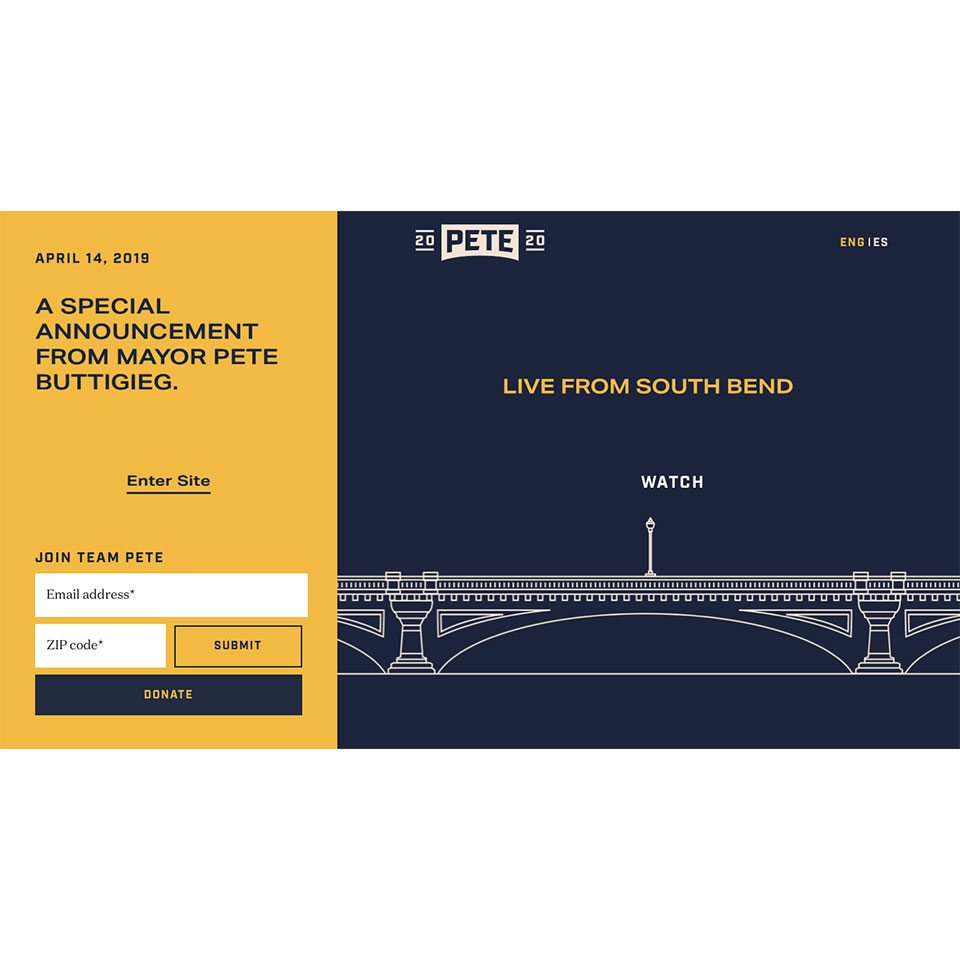 Launching
Then, on April 14th, after 45 days of designing, developing, and sleeping less than we would have liked, we launched, just in time for Pete's big announcement from the old Studebaker factory in South Bend, Indiana.
Going Social
The Pete campaign also leaned on Tilted Chair to develop some simple assets to get things going on social. We used a combination of Pete's photo assets, media footage, and original editing and animation to craft a social media fundraising campaign. We also consulted with the campaign's marketing folks for six full months, helping lay the foundation for a digital strategy which is supporting the Pete campaign to this very day.
Breaking Records
In the first four hours after launch, Pete's campaign raised over a million dollars. Maybe more importantly, he hit his debate thresholds—60,000 unique contributors, at least 200 in all 50 states—sixty days early. A very distant footnote: our website landed on the incredibly competitive The Best Designs as the Design of the Day.
Services Provided
Interactive
Web Design
Web Development
Custom API Development
Production
Editing
Animation
Media
Media Planning
Media Management
We really are so glad to have had [Tilted Chair] on board and I personally know we couldn't have gotten everything done without [their] smarts and passion for mayor Pete.
"
Let's connect!
Ready to start a super cool project together? Cool, so are we.